It's time to celebrate the concept of public service and to encourage our some of our brightest and best graduates to serve in the wider public sector beyond Whitehall and the Civil Service Fast Track programme.
I want to see able young men and women follow me into school business leadership.
But administrative careers are not sexy…
Ok I admit that I don't have a sexy job title. There's no uniform, it can't be described in one word, Small children don't dress up to play at my role in playgroups. George Clooney never played my role in a movie.
In fact, it's worse than that: administrative leaders are often portrayed as the bad guys. In films or on TV, would be depicted as one of the bureaucrats who specialise in red tape, those that  in the way of the heroes. In the popular narrative, people succeed in spite of us and not because of our efforts.
Let's get graduates to see school business management as a legitimate career
Its time to sell school business management as a legitimate graduate career path and as a role that adds value to public life.
I gave a speech on this topic to a gathering of NASBM Fellows at the Guardian newspaper's headquarters a couple of years ago when I posed a question about whether we wanted headteachers tied up in non-teaching tasks:
"What do we want? Better bureaucracy? When to we want it? Now!" Said nobody, ever!

"What do we want? Safe, warm schools! "When do we want them? Now! What do we want? New playgrounds! When do we want them? Now! What do we want? Teachers paid properly and on time! When do we want that? Now! What do we want? Exciting classrooms and places to learn in! When do we want them? Now!

Do we want the headteacher taking time out to plan playgrounds or reconcile the payroll? No. Do we want the head of learning planning energy procurement across the trust? No!

So what do we want? Better business management! When do we want it? Now!
I've long thought that it is time to get university graduates interested in the business of running schools. Why shouldn't we bang the drum and promote school business leadership and management as a career of choice for philanthropically-minded students?
As schools come together in clusters and multi-academy trusts, more and more exciting career opportunities will arise. If we start celebrating these opportunities, we will start attracting new candidates. Multi-academy trusts are large and complex operations with thousands of individuals affected by business management decisions made centrally. Running them is a legitimate career path for people who care deeply about the quality of public service in this country.`
I think it is a shame that the brightest and the best graduates overlook public service, and public service in schools when choosing their future career.
Properly promoted, the diverse portfolio of roles and skills might be attractive to university graduates with a desire to 'to something useful'. Ambitious, hardworking graduates might aspire to secure places in MAT graduate training schemes rather than heading to the City and FTSE 100 companies.
It is time to create an educational 'Serve First'. It is time to create a pathway for people to serve in schools as a matter of first choice. It could be the equivalent of Teach First, positioning school business management as a vocation rather than an accidental discovery. Not everybody who wants to do good wants to teach and there are lots of opportunities to serve in other ways in schools.
A radical view of the scale of the career opportunities available to SBMs
In my original speech, I restated my view of SBM career progression, a view that was once thought too radical.
"I'm going to outline that scale for you. Now when I first did this, in the House of Lords back in January 2015, I was laughed at for being too radical. A year on – and I think I might see a few nods of agreement.

School Business Management starts with an unpaid volunteer in the school office. It goes on to include working as an administrator or a school secretary. From there, we get promoted to finance officer and bursarial roles before moving on to be school business managers or directors of support services. After that, the profession rises to take on senior finance and operational positions in multi-academy trusts or even within diocesan or local authority structures.

At the more senior end of the profession, school business management positions comprise of Directors of Education, COO or even CEO roles. And you all know the name of the most senior school business management professional in the country… her name is Nicky Morgan, the Secretary of State. She is in charge of the nation's education. It is her job to deploy the country's resources to ensure the best outcomes for pupils. Now, she is not a teacher; so she must be a business manager!"
Now, a couple of years on, that model has become the basis of what I believe we can offer graduates moving into the school business leadership profession.
I want to see those of us who share this vision championing what we do, proudly promoting the way we serve pupils and teachers day in, day out as a noble calling. One that is worth pursuing.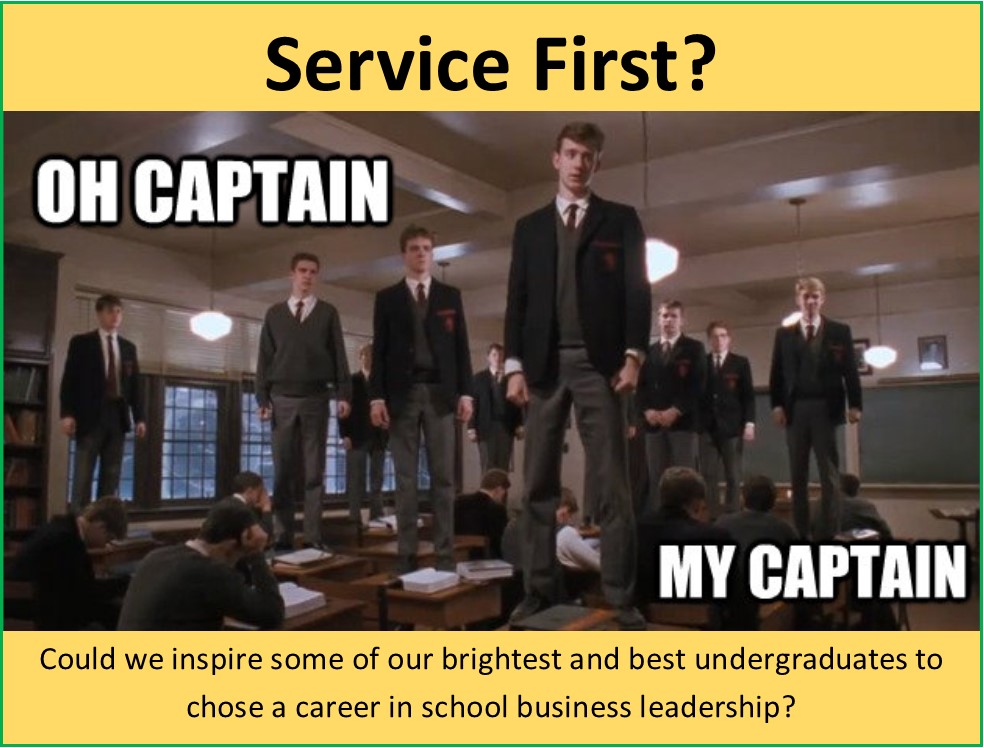 In return, I am hope there are those out there who would respond to the 'Oh Captain, my Captain' moment by standing on their desks and declaring a desire to make a difference, to be restless about what can be achieved and, dare I say it? Who might even run our schools a little better than we are running them now?