I am a trustee and Fellow of the Institute of School Business Leadership with over twenty years' experience as an executive leader in schools, charities and non-profit organisations.
I chaired the SBL practitioner group which created the new standards for the school business leadership profession.
My committment to developing the SBL profession includes chairing the ISBL Fellowship Assessment Panel; the body responsible for appointing practitioners to the highest grade of professional membership.
I am currently Executive Chair of the Interim Executive Board appointed by Birmingham City Council and the Diocesan Education Service to secure rapid improvement at Sacred Heart Catholic School in the city. I am supported in this work by colleagues at Bordesley Green Girls' School; the outstanding school in Birmingham where I am a job-share Deputy Headteacher.
I started my SBM career in a high-performing grammar school before working for nearly nine years in a challenging secondary school in inner city Birmingham. During those years, we took the school from Special Measures to Good and opened a new Sixth Form.  I am especially proud of having led my team at that school to 'Outstanding' in a strand-inspection of the wider workforce: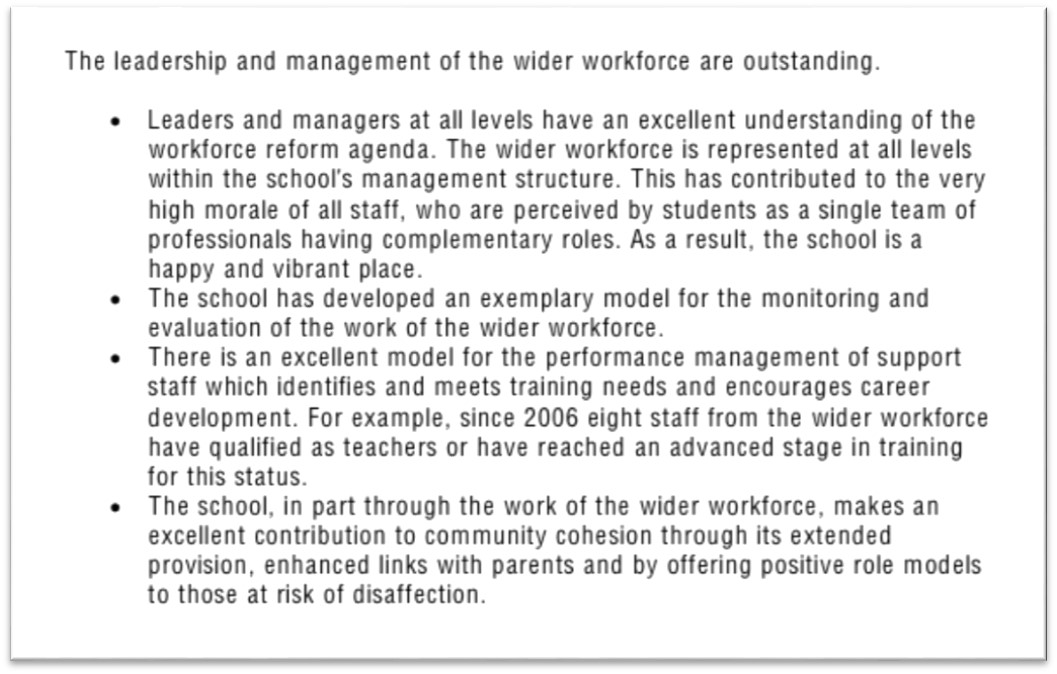 I have worked in maintained schools, multi-academy trusts and supported federated governing body projects. In the early years of my education career I clerked for a number of local governing bodies.
I have a wider strategic view of the education sector having  served in recently years on IEBs convened to help secure rapid school improvement for both the Ormiston and AET academy chains.
Before I worked in education, I worked at board level for a number of charities involved in the construction of schools, orphanages and clinics in sub-Saharan Africa. I have quite a lot of hairy stories about project visits, health and safety and wild animals from that time!
Alongside my day job, I have a growing private practice advising and training number of leading education organisations on policy issues. I have three fabulous children and, on account that my partner Heather has cystic fibrosis, undertake the odd fun run in aid of the CF Trust.
I campaign for better management of school resources and all my views are my own and are not those of any organisations I work for.
Find me on twitter @MidlandsSBM