This is the text of the opening address I gave in place of Stephen Morales at the final NASBM Annual Conference (NASBM becomes the Institute of School Business Leadership tomorrow). It has had minor edits to make it suitable for reading but is 98% 'as delivered'. The slides appear in the text at the point they were revealed.
Keynote address to NASBM Conference
When you're asked to deliver someone else's speech and you've only got their slides to go on, then it's a bit like a technical challenge in Bake Off – there's a list of ingredients,  there's an 'agenda', but from there on, you're on your own.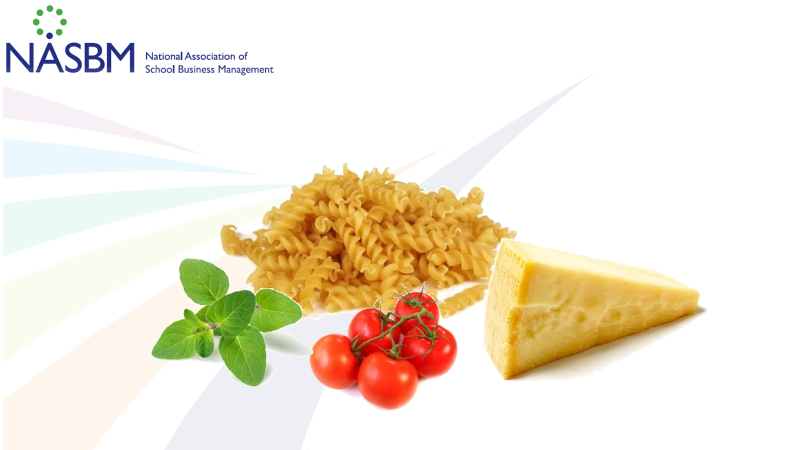 Fortunately we're somewhere a bit more glamorous than a tent in a field, but basically my job's the same: get into Stephen's mind and serve up the messages he wants you to hear. We've got twenty minutes for this challenge so here goes…
It's fair to say schools and academy trusts are experiencing significant turbulence. We're seeking to manage greater levels of accountability, structural changes, curriculum revisions and the impact of funding reform. We are expected to rationalise our staff, reform our structures and rewrite our schemes of work in a live environment in the face of frightening financial challenges.
And yet the business of education remains essentially the same. Schools enable skilled teaching staff and allied professionals to interact with children in the optimum way to facilitate learning and their personal development.
Schools do this so that all children can make the maximum possible progress and move onto the next phase of their lives, equipped to take full advantage of growing up in modern Britain.
It would be impossible to speak at the start of our conference without mentioning funding. But if you are expecting a tub-thumping demand for more money, then this is not it.
The arguments for sufficient money in education are well rehearsed. Indeed they rage on in the press and in playgrounds around the country. Parents and pupils campaigning alongside school leaders for enough money to do the job. Don't mistake my skirting around the subject this morning for a rejection of the calls for more funding. We are engaged in noble work. It is ok to ask for more money. What we are doing is worthwhile. We are only as good as the funding we receive.
But our job, the primary job of our profession, is to manage the money we are given to the best of our ability. We are called to apply our expertise so that the impact of cuts is minimised and outcomes for pupils are maximised.
Let's get our definitions straight:
"Efficiency and austerity are not the same things. Austerity is an economic state where funding covers essential items only; and even this expenditure may need to be reduced. This is because austerity is about doing without, it is about accepting compromises."
Austerity leaves us in a position where jokes like this seem all too real..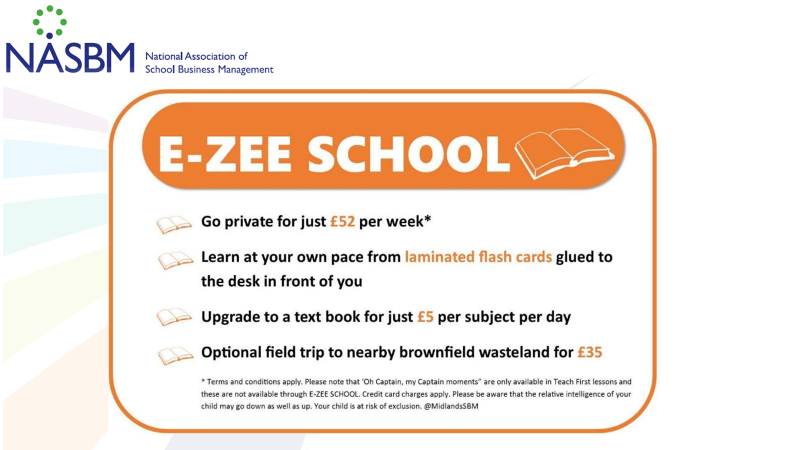 You will have seen in the press, the claims that it is possible to run a private school for £52 a week. That's £2,700 a year. Well, I say no. I don't want to be part of a school system reduced to offering 'standardised' resources, glued to the desk like the emergency instructions on a Ryan Air 'plane.
How horrific to invoke funding levels that would make actual text books an 'upgrade'. Field trips? One per year? To God-knows-where, for yet more money charged to parents, in the rain and suitably close by to keep costs down? No – this is not where I, or any of us in this room, want to work.
I want to work in an 'efficient' system. This is because efficiency is ambitious. It seeks to achieve more than was previously possible through the optimum balance of inputs and outputs. An efficiency-mindset releases resources. Efficiency is not the enemy of school improvement or of improving outcomes for children; it is an enabler.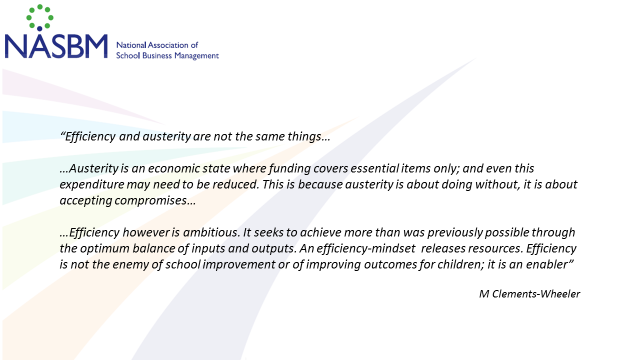 Efficiency is not a dirty word, it throws up images like these: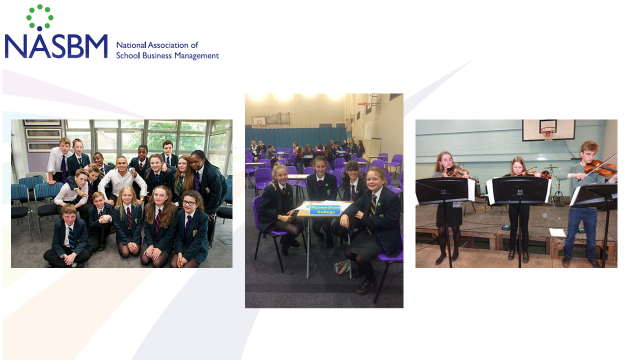 Extra curricular visits, debating societies, careers advice, arts and outdoor education. These can all happen when sufficient resources are deployed effectively.
Now these pictures are not stock photos, they aren't pictures of models, they're real pupils from a school of one of the delegates attending conference today. They happen to by from Wymondham College in Norfolk, but they could be from any one of your schools.
As school business leaders, you play a part in making things like this happen. Every time you save money, that's money that can be spent elsewhere, every time you squeeze an extra saving out of the budget, that's a call on your total funding that's not been made:
Resources have been released for other things.
It's time to get excited about what CAN be achieved with resources we've got.
It's time to get excited about the people who spend their lives working to get resources to where they need to be.
It's time to raise the prominence of this people who make sure the lights are on and the classrooms are warm and the dinners are cooked and copiers are working. The people who make sure that the staff are paid and the sports hall is let out so that there is an income stream to pay for breakfast club.
 The things SBMs do might not always be sexy but when they are done well, our schools hum. They run like a well oiled machine.
As one popular SBM blogger says 'you've got this'.
We are engaged in noble work so It's time to raise the prominence of this profession. It's time to stop managing and start leading
Now the slides Stephen has given us switch up a gear here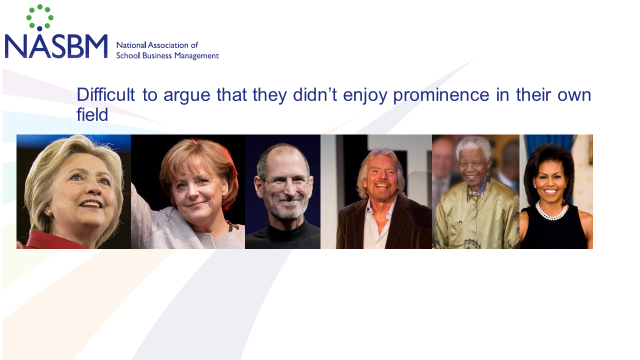 He's given us a set of modern leaders who enjoyed prominence in their own field. Each one of them known for being:
Single-minded
Determined
Resilient
Focused
And I guess you could say that this is a pretty inspirational bunch too!
Clinton, Jobs, Branson, Mandela – that's some impressive company Stephen has assembled to stare down at us.
I can see what Stephen is doing here – he's building a story for us about leaders who have a vision and mission to enact change, leaders of companies, of movements, of nations. Leaders engaged in noble work.
And yet, they are people who have a personal vision for their own success as well. Stephen is telling us that it is ok to seek to better ourselves and our status at the same time as those we work for.
Jobs and Branson are not leaders who were born billionaires (unlike Trump!), they started small and worked their way up to phenomenal success – and we can take that analogy and apply it to our profession; starting as administrative staff and ending up co-leading complex organisations.
One thing that this group have in common is that they learned some of their most important lessons through failing and trying again. Taking the lessons learned and making incremental improvements to move forwards. We need to know that it's ok to make mistakes if we learn from them.
What else do we know?
Each of the leaders Stephen has picked out has only been successful by building brilliant teams around them – business teams, campaign teams, research and development teams.
They are people who lead complex groups of specialists who get the job done.
Boom – there is the killer analogy; people who lead teams, who raise their own profile whilst making things happen around them, people at the heart of complex change who are front and centre when it goes wrong.
We see that Stephen is showing us these leaders because this is how he  wants us to behave as NASBM becomes an Institute. He is telling us that there are challenges ahead for us personally as the landscape shifts. The new institute has a vision for this profession and it will challenge us.
He is charactering the move to Institute status in terms of us having a vision and working as a team to make it happen. A very prominent change in our status.
So that's why Stephen want us to think about leaders with a vision, leaders with a passion and leaders of teams who learn from their mistakes. It's part of the vision for the new Institute we will unveil in this stage tomorrow.
So what is the vision?
What is the goal that drives us?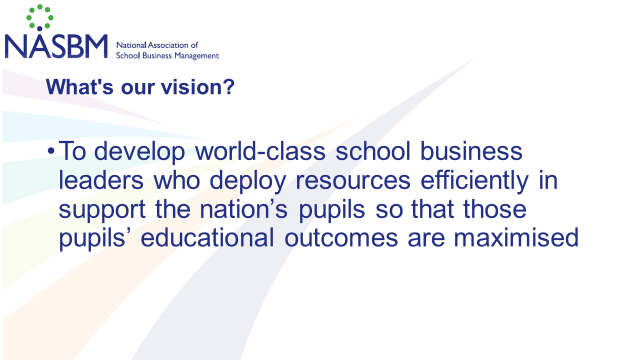 To develop world-class school business leaders who deploy resources efficiently in support the nation's pupils so that those pupils' educational outcomes are maximised
Can you see the how and the why in that statement?
We want to develop world-class school business leaders to that pupils' education outcomes are maximised.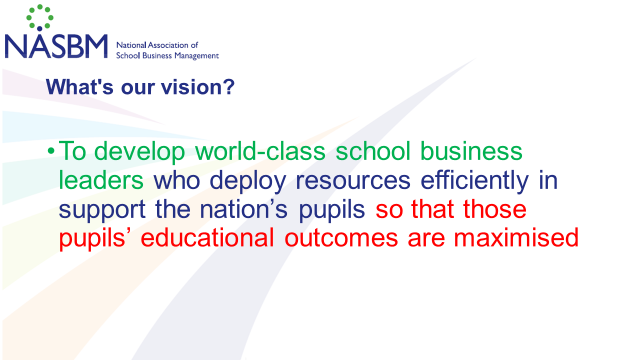 We are engaged in noble work.
So who are the team working to achieve this?
So who are the team involved in this?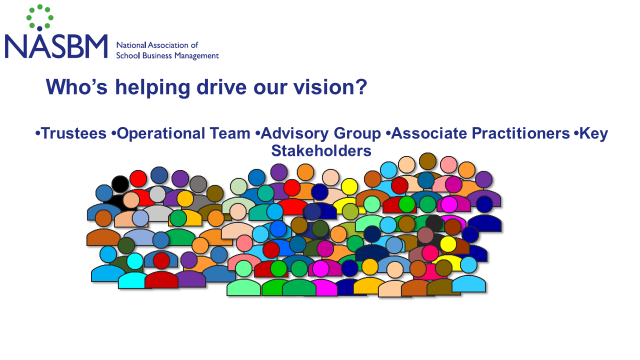 The Trustees – not just the current board, but almost 60 practitioners who have stepped up to the challenge of running our professional association over the last 20+ years.
Our Operational Team working away at headquarters in Coventry. They put on conferences like this one, they answer the phone and put us in touch with each other when we ring in with queries. And, of course, our chief executives and senior staff who have worked tirelessly over the years to get us to this point.
We have and advisory group and a growing number of special interest groups on everything from funding issues, to wider policy discussions. Did you know there are over 50 practitioners regularly participating in these groups along with a whole host more who are brought into the conversation when needed?
Our Fellows and our Associate Practitioners are dotted about all over the country, leading the way forward and promoting best practice.
And our Key Stakeholders; the DfE, Ministers, the EFSA, unions, other professional associations and employers.
But it is wider than that, this professionalization agenda is being driven by all of you!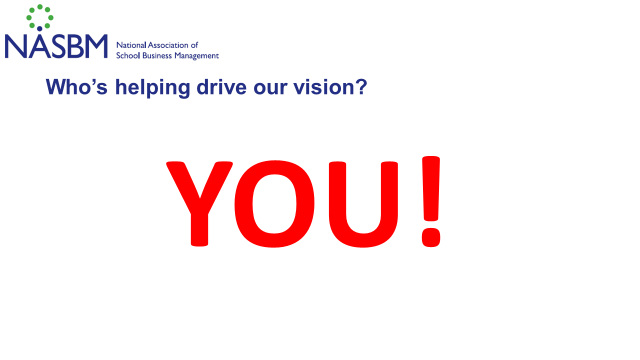 We've got every time of school business leader in the room today – from entry level professionals just starting their journey to those who direct the school business functions of 70 schools at a time. We've got local and regional group leaders and people who worked on the professional standards. There are people here who train other business leaders and people who examine them. There are Fellows in the room who wrangle with the DfE and with Ministers on our behalf. There are people here who go into struggling schools and help turn them around and there are those who stick plasters on wounded knees.
We've come a long way to get to the point where we are ready to call ourselves an Institute.
Look around the room and think about the billions of pounds of public money that passes through our hands, think about the hundreds of thousands of pupils back in the buildings we manage right now – learning from resources we ordered.
Give your fellow school business leaders a hand because you're all pretty awesome!
Now for some of you and for some of the profession out there, this vision of prominent leadership might frighten you. "Matthew, it's all very well for you to stand on a stage and show pictures of world leaders but that's not me."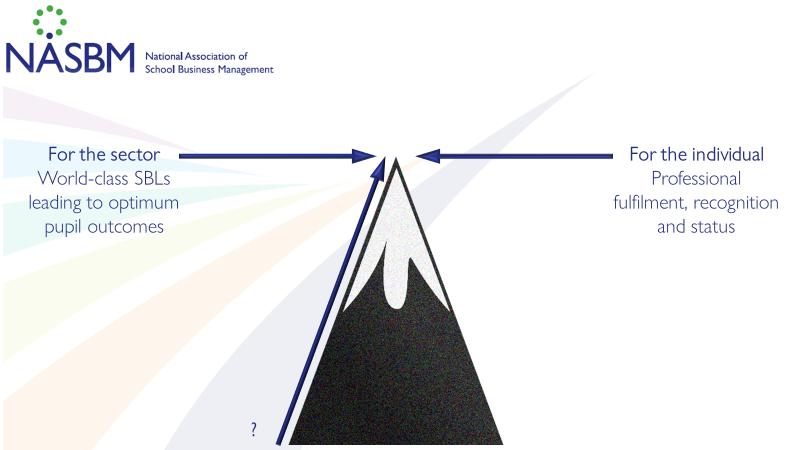 We are here to help – this is the role of your new institute.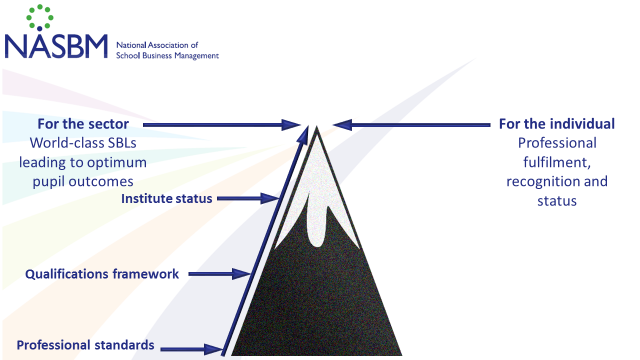 We are here to put the steps in place that can get you from where you are now to where you want to be. The standards, the qualifications and now your own professional body are here to help you move up that mountain.
And look at the prize on offer at the top – the promised land where pupils do well and you are recognised as the professionals you are.
Now I don't think I'm going to win all of you over like some biblical messiah thumping the lectern.
So let me show you two different types of professional prominence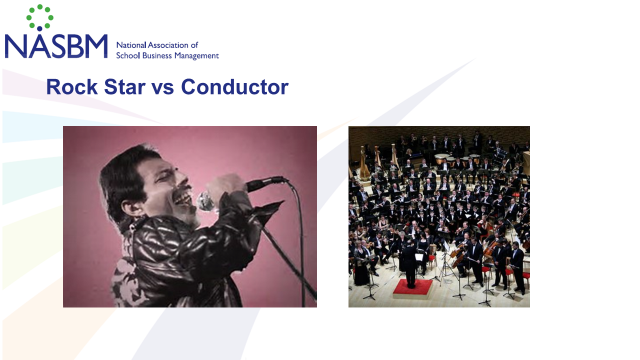 Rock Star vs Conductor – both valid, both trained, both respected, different styles…
One stands at the front of the stage, it's all about them
The other produces beautiful music by co-ordinating the work of others.
You might say that we are looking at Head and Chief Execs and then at SBLs?
At work, I identify with the conductor – taking my teams through the rehearsal to get ready for the performance. Praising where praise is due, banging the music stand and shouting "no, no no – do it again and do it better this time" when that's needed.
What do both types of prominent leader have in common?
They practice, practice, practice. From the earliest little recorder player, to the world famous performer, they put the hours in, they work to get better and better.
We are only going to get better as a profession if we learn from each other, if we hone our skills and our qualifications. We must be masters of our own professional knowledge.
Stephen was keen to talk to you about a leadership lesson learned by climbers on Everest and to use it to convince you we understand the importance of not pressing on too high, too far or too soon.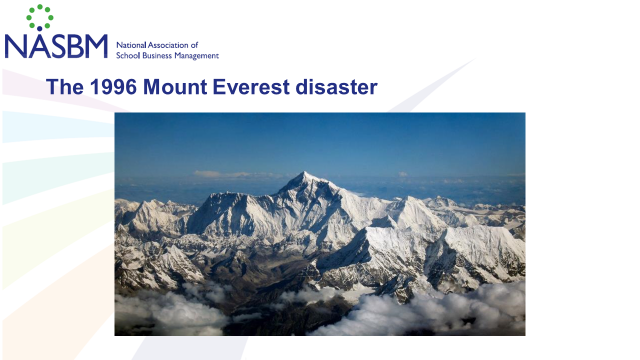 We've taken the story and put it on your tables for you to look at later. But you'll see that it talks about listening to the team, not pushing too hard
We need to make sure system reforms aren't pushing you up that mountain (autonomy) too quickly – there is a danger that charging up the mountain like Rob Hall could expose us all to unnecessary risk and, perhaps more importantly, without the right support, training and experience.
Given the constant change and turbulence the education sector has suffered over recent years, here at NASBM we are trying to take heed of David Breashears' lesson and not let our own ambition for the new institute cloud our judgement, by making sure that we consult and engage with practitioners in a meaningful way.
The SBL professionalisation journey is well on its way; professional standards, qualifications framework, apprentice pathways, fellowship and institute status are all steps along the way.
There no turning back, but we need to make sure we guide everyone safely to the summit by going at the right pace, with the right training and the right support.
The next two days are a few more important steps in the climb up the mountain. Take time to get to know your teammates, your fellow climbers here today. This is base camp. The institute is your 'sending body'. Out there, the trade fair is your equipment shop. Take time to pick up the bits and bobs you will need on the journey. Hire guides for the difficult bits like your first academy accounts, treat the consultants like personal trainers – pushing you to get better.
As your professional body, it is our job to help you get ready for the onward climb, to master the disciplines and to perform to your very best. We want to leave nobody behind.
I want to leave you with two images – the letters 'A' and 'I'. Yes, this is the school business management A to Z. Well, ok, it's the SBM A to I at any rate.
The 'A' comes from the word 'Association'. A group of people coming together with a common cause or purpose. It also has the shape of the mountain that we are all slugging up together. The 'A' of the old association.
The capital letter 'I' rather neatly comes from the Institute. It gives us a very pleasing shape – that of the steel I-beam we're all used to from the construction projects will all manage.
Picture it now – the I-beam is a remarkably efficient shape. It is immensely strong but contains only the metal needed for structural strength and no more. It is the very essence of efficiency in the system. Incredibly strong, able to build high, build fast, build quickly.
That is where we are going as we move from the 'A' of association to the 'I' of institute – our vision of developing world class business managers who deploy resources efficiently so that the nation's pupils' outcomes are maximised.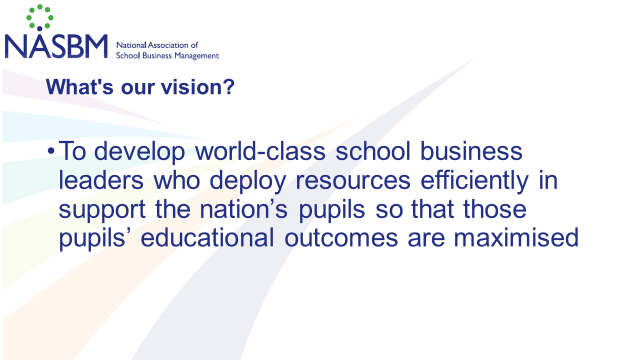 Now that is a group of people of deserve profession prominence!
Thank you for listening.