The time is right for SBMs to join together under the umbrella of a credible professional body and sign up to a set of professional standards.
Publically accepted professions are bound by ethical codes and established levels of competency. The are self-regulating and speak with a clear voice through a recognised professional body. 
If school business management is to mature as a professional activity, then there must be a commonly agreed set of standards which are set, adopted and enforced by members of the profession
The 2015 NASBM Professional Standards Framework set out to do just that and establish the levels at which professionals working in school business management operate and the areas of technical specialist knowledge they require. It includes an ethical code that puts pupils at the heart of all we do.
Click here to access the NASBM Professional Standards
A celebration of best practice
The standards framework evolved from work done previously by the National College and was created by those working in the profession for use by the profession and those they work alongside. It celebrates existing best practice and raises the bar for the future. Additionally, it forms the basis for those charged with leading the profession to commission appropriate training courses and qualifications. It supports career progression and acts as a catalyst for further improvement in the way the professional supports schools and academies.
At the time it was launched, the education sector was ready for a new framework; in the years since the government's first vision of a new type of education leader, school business management professionals took their place in educational establishments up and down the country. Today many thousands of them (circa 16,000) deftly manage the diverse and complex portfolio of finance and operation systems which underpin high quality teaching and learning.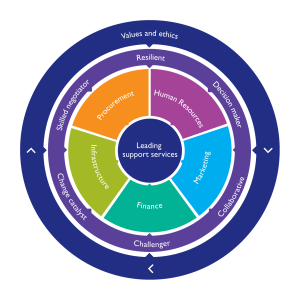 A rapidly maturing profession
Therefore, school business management in UK state schools has come of age; with differentiated levels of professional practice and an established suite of qualifications to support them. School business management professionals work across the state sector and beyond; all types and all phases of school and academy depend on their technical knowledge and entrepreneurial leadership abilities to deliver high quality support for teaching and learning.
Those working in school business management hold a variety of job titles and the tasks they undertake range from capital planning and estates management to multi-year budgeting, and from HR support to innovative utilisation of resources. School business management professionals play a significant part in UK schools.
The knowledge, skills and ability required to run effective schools and academies mean that school business management professionals must increasingly master detailed technical knowledge across a number of specific areas at the same time as they play a part in the strategic leadership of their institution.
The business operations of all but the smallest of schools are too small for one role and, just as the 'hero-head teacher' at the turn of the century morphed into more distributed leadership structures, so the 'burnt-out-bursar' is gradually becoming a team.  Effective school business management is increasingly achieved by harnessing teams of professionals in support of learning from entry level practitioners to senior leaders.
Collaboration between schools and academies is creating new and interesting career paths for professionals stretching all the way from traditional entry level roles in school administration right up to board-level leadership in larger schools or complex multi-academy trusts. School business management professionals can be found leading education in both local authority and diocesan structures.
These new standards underpin both the new leadership posts in the profession and the entry level activities and are endorsed by a range of stakeholder groups, including the DfE, ASCL, NAHT, Unison and the training providers working to support the sector.
To meet the needs of the changing education landscape all school leaders must recognise the contribution, impact and support that school business management professionals are delivering across the country. School leaders need to both acknowledge and champion this group of practitioners for their specialist expertise and focus on maximising learning outcomes.
This recognition and the adoption of standards will allow all schools to unleash the power that skilled professionals bring to schools in improving operational effectiveness and giving school leaders the required resources to drive improvements in learning outcomes.
[This article was first written in 2015 and is reproduced with minor adaptations here]